September 7th, 2012
I'm writing this in chilly San Francisco. I'm here visiting my son and I planned the visit so I could take in the Sausalito Art Festival. It's rated as one of the top art fairs in North America and so I was really excited to get there and be impressed and inspired by the high standard of work. I'm not sure why, but I didn't find it as exciting as I expected.

We had a nice trip over the harbour on the Blue and Gold line which took us directly to the art show right on the edge of the water. We were there around midday on the Saturday and the crowds were just starting to arrive. They really get a great turnout and because you have to pay a good fee to get in, you know that the people who come are actually reasonably interested in art and not just our walking their dog. It's a large show and as I was with other family members I couldn't take all day to go around but I did manage to do the circuit and see most, if not all, of the artists work.

My favorite was enamel work by Judy Stone. Her work, which I first thought was porcelain, was beautiful! I loved the wired parts of her bowls and the beautiful colors. She has a great video on her site showing the process of creating the bowls which was very interesting. I don't think the photos on her site do justice to the wonderful colors and presence her work has when you see the actual thing. http://www.jstoneenamels.com

I also liked the abstract paintings of Paula Boas. http://www.paulaboas.com Alenjandro Martinez-Pena http://www.martinez-pena.com and Sue Cretarolo http://www.suecretarolo.com.

The printmaker Fernado Reyes had some very interesting work and I particularly liked this image. http://www.freyesart.com/Works_on_Paper/Pages/Monoprints.html#0 .

Do check out his other work too.

There was also a wonderful glass artist and a guy who made a really quirky series of ceramic cars with funny people in them. His craftsmanship was great. Unfortunately I don't have photos of his work and I couldn't find his link on the festival page.

The picture above shows one of the most expensive works we saw. The image was made with silk thread and obviously took many many hours to make. You can see the image in the left of the picture taken with two smiling family members. I'm using a different computer and couldn't work out how to crop them out of the photo!

Another favorite was Robert Burridge http://www.robertburridge.com/roadside_attractions/index.html

and http://www.robertburridge.com/Abstracts/wingland/index.html

All in all it was a good day but I wasn't tingling from the experience.



May 31st, 2012
Riverdale Art Walk
This Weekend June 1 & 2 is the Riverdale Art Walk or RAW. I will be in the RAW, sounds a bit naughty doesn't it, and will be showing my "Ladies" as well as other printmaking works. I'm hoping for a nice weekend that is nothing like last years when it poured rain most of the Saturday.

The Raw is held in Jimmie Simpson Park on Queen St East. I will be in booth 101. I hope you will come and visit me there and see my new work.

Click on the link to see the whole newsletter http://t.co/50YTXcQR

May 7th, 2012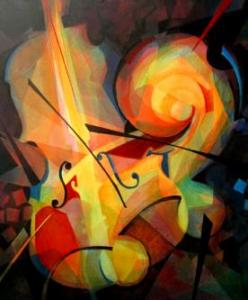 For the second year running one of my paintings has been chosen as the program cover for a series of classical concerts to be held in a beautiful castle in the Netherlands. This year Cubist Play is the image chosen.

The Virenze Concerts take place at the classical 14th century Castle Rijckholt, near Maastricht.

Please visit, and LIKE my facebook page https://www.facebook.com/SusanneClark.Artist

May 5th, 2012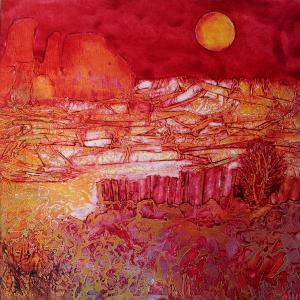 This week I went to a very fancy art opening. It had everything going for it, nice art, great food, ample free wine and a very personable artist who mingled and made everyone feel very welcome. It was a very professionally done event. The turnout was pretty good too although I was there quite early and didn't see the crowds who may have turned up later, but what I am wondering is did all this translate into good sales. I noticed that many of the people seemed to be more intent on the food and socializing than in really looking at the art.

So can food and wine be a distraction to art sales? I know people buy art from artists they like and perceive to be successful but is an expensive opening really neccessary? I would love to hear about your experiences.
April 27th, 2012
Back a few weeks ago I decided to work on some color studies and chose florals as the basis for this study. Florals are something I haven't painted in years but they were ideal for my intention of doing paintings in a variety of different colors, many in combinations that I would never usually choose. I also wanted to use more paint in my work. I often find that I am very mean with the amount of paint I use and am trying to cover large areas of the canvas with a miserably small amount. The idea was also to work very loosely with no attempt to create real flowers but just to give the impression of flowers. I really enjoyed this exercise. You can see the results in my "Posy" Gallery here on FAA.
October 27th, 2011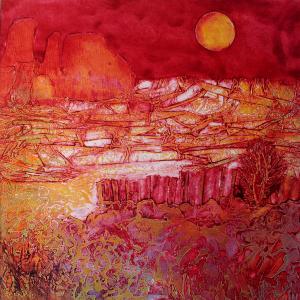 I'm packing up today ready for a big printmaking demo to the printmaking students at St Lawrence College in Brockville, Ontario. It appears that there will be more than 30 participants. I'm showing how I create intaglio collagraph prints. You can read about the process at http://www.susanneclark.com/information-on-collagraph-printmaking-and-kimono-print-gallery.html and there are also quite a few posts about printmaking on my No Naked Walls Blog http://www.NoNakedWalls.blogspot.com.
October 25th, 2011
Some 22 years back I was on my way to my weekly sculpture class in Wellington, NZ when from the car window I saw a painting in the front window of a local Gallery. It was a large, free flowing and colourful work by a NZ painter Shona McFarlane who had a personality as vibrant as her paintings. I decided right then that I would buy it. What also appealed was that it showed the view of the valley where I lived and was very soon to leave.

Fast forward to November 1999. I am living in Ottawa, Canada and my house has just burned down in the largest fire in the city in 34 years. My new town house of under a year old is almost completely destroyed along with 12 other homes.

The house was a crime scene for a few days but then we were able to walk through a few areas to see if anything could be saved. There on the wall was the painting, covered in smoke but still in one piece. Days later I took to it with detergent, water and a soft scrubbing brush and because it was acrylic it came up like new.

Our house was rebuilt within a year and with the painting on the wall it felt like home again.


This got me thinking about different reasons to own art and so here are 5 of mine.


1 Unlike clothing and most everything else, it doesn't wear out.


2 It will stay with you through difficult times and give you joy.


3 It will still fit in 10 years.


4 Art adds real personality and individuality to your home and reflects who you are.


5 When you look at the art you will remember when and why you chose it and who you were with and it will remind you of the unique path you have taken in your journey through life.


I'm sure you will have your own reasons to buy original art and I would love to hear them.
August 24th, 2011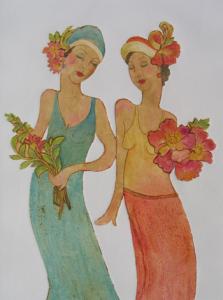 Like many artists I am still trying to find my way with my blog and one thing that I wonder about is am I writing it for the right people. Who do I want to read my blog and what is its purpose?

Many art blogs seem to be more for other artists, with technique tips and marketing ideas, and not much for non artists who are art lovers.

As an artist I love to see what other artists are doing in their studios but wouldn't it be great if a blog was also really interesting for art enthusiasts and potential buyers as well. What does it need to make it that way?

Perhaps it would tell more about the creative art process and give a personal insight into who the artist really is and what motivates them? Maybe we talk about these things but just don't go deep enough or expose ourselves enough. Do we focus on showing our professional side and not let some of the nitty gritty raw feelings come out? Would that make it more compelling? What do you think?

July 21st, 2011
Two weeks ago I exhibited at the Lions Fine Art Show and Sale at the Waterfront Festival in Cobourg, Ontario. I love this show because it's in a beautiful setting right on the beach.

I was showing both printmaking and non representational paintings. While I got lots of great comments on my paintings it was the printmaking that sold really well.

I want to make it clear that the printmaking process I am talking about is creating original artworks printed by hand using a printing press and not a digital reproduction of a photograph or artwork. My main technique is Collagraph but I also had some hand painted blockprints on show.

I thought that printmaking may sell better because the work is usually less expensive than paintings but although I have shown small paintings on many occasions they just don't seem as popular. I find that people prefer the larger ones.

So, back to the printmaking .... I'm not sure what makes it more appealing. It could be the subject matter, my printmaking tends to be more decorative in style, or perhaps it just looks nice because it has a nice clean look with a white mat around it and a frame. What do you think?
June 16th, 2011
Every now and then I feel creatively a bit lost. I find it hard to get inspired and this means it's harder to get motivated to start working. It's interesting that during these times we say that we have lost our "creative spirit" and that we want to be "inspired."

Looking at these two expressions reveals some interesting ideas. The ancient Greeks used to think that we did in fact have a creative spirit to call upon. Called a daemon (an ancient Greek name for a divinity or supernatural being of a nature between gods and humans), they believed that this supernatural being was available to be called on to help when we want to be inspired. The word "inspired" is also interesting. Having it's roots in the breath, the words "inspire" and "expire" at birth and death mean to have the breath or spirit come in or go out. So being "inspired" is to have the creative spirit come in, an interesting thought.

Steven Pressfield wrote a wonderful and very inspirational, there's that word again, book called "The War of Art". In part three of this book he tells how he invites the creative spirit or muse every day before he starts his creative process. It's a book that I highly recommend along with his new one called "Do the Work."

While I was thinking about this I came across a video called "A New Way to Think About Creativity" where Elizabeth Gilbert of "Eat, Pray, Love" fame talks about a similar idea. It's rather a long video but she is a good speaker and I think it's well worth watching.

On Saturday I leave with two friends to go to an art workshop in South Carolina. Perhaps I will invite my Muse to come along too!